Antonio Vivaldi had red hair and a fiery personality to match. On the day he was born in 1678 he nearly died. To save him, his mother vowed that Antonio would become a priest. That vow would cause trouble, because Antonio wanted to be a musician like his father.

The family lived in Venice where music was always in the air—people playing instruments and singing at their windows, in the piazza, and on boats. In spite of his mother, Antonio vowed that music would be his life. But how?

I, Vivaldi is a picture book for all ages, from children taking music lessons to adults who love baroque music and Venice.




Praise for I, Vivaldi


Kirkus Reviews: "Giving even Canaletto a run for his money, the illustrator sets expressive, natural-looking figures against golden-toned backdrops of 17th-century Venice's rich interiors, splendid vistas, opulent churches and serene canals . . . (A) fetching introduction to one of the great masters of the Baroque era."

Publishers Weekly: "Gloriously painted cityscapes of Venice and the Piazza San Marco steal the show . . . The first-person narration offers an accessible and personable view of Vivaldi's intense passion for music . . . stunning . . . breathtaking."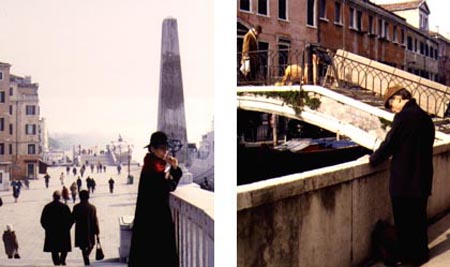 Janice and Tom in Venice
Author's note...
The genesis of this book was our passion for Vivaldi's music and Venice. We lived for a time in the square where Vivaldi's childhood home stands. Tom played kickball with the neighborhood children. And we attended a concert of his music in the Pietà where he taught the orphan girls. While Tom drew in his journal and took photographs, I absorbed the sights and sounds and smells of Venice.


Listen to an interview on Book Bites for Kids
Click here.
Study Unit Available
Click here.

Discussion Guides Available
Click here.