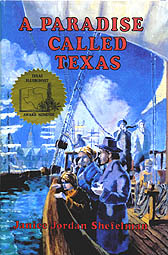 A Paradise Called Texas
Eakin Press. Searching for a better life, Mina, Papa, and Mama leave their German fatherland aboard the Margaretha bound for Texas. They had been told it was the paradise of North America, but when Mina steps onto the desolate beach at Indian Point on a cold December day in 1845, she wants to go back to her village in Germany. But go on they must.


Based on her ancestors' immigration to Texas, Janice Shefelman tells of a journey into the wilderness that is filled with hardship, tragedy, and adventure. "...young readers will glimpse a fascinating view of what life in early Texas was like for German settlers." -The Houston Post. Texas Bluebonnet Award Nominee.
ISBN 0-89015-409-0
Cover art by Karl Shefelman
Teacher's Guide available from Suzy Red. E-mail: suzyred@aol.com
Willow Creek Home
Eakin Press. A summer of drought and epidemic illness in 1847 force Mina, Papa, and his new wife Lisette to move on from Fredericksburg to a larger land grant deep in Comanche territory. They join with two other families to establish a colony on Willow Creek. Though a treaty has been made between the German settlers and the Comanches, there remain renegade bands of warriors roaming the countryside, stealing horses and murdering settlers.


A complete novel in itself, Willow Creek Home continues where A Paradise Called Texas left off. "...an adventure story that will hold readers' interest." - School Library Journal. ISBN 0-89015-535-6
Cover art by Daniel Shefelman
Spirit of Iron
Eakin Press. In 1850 Mina Jordan turns fifteen. She still rides her horse like a wild Indian and dreams of adventures. When Captain Allen and his company of Texas Rangers stop by the Jordan cabin on Willow Creek, Mina learns that Amaya, her Lipan Apache friend, has been kidnapped by a band of marauding Comanches. She decides to disguise herself as a boy and follow the Rangers to search for Amaya.


In her third novel about Mina and her family, Janice Shefelman takes her heroine on a journey to the plains of Comancherķa. "Historical fiction that can be enjoyed as an adventure story." - School Library Journal.ISBN 0-89015-636-0 Cover art by Daniel Shefelman.
Author's note...
My fictional Mina is a combination of two real girls. Both were named Mina and both were my great-aunts. The first Mina came to Texas from Germany with her parents, just as in the story. But unlike the story, the first Mina died during an epidemic in New Braunfels six months later. When her father, my great-grandfather, had a second daughter, he named her Mina to ease his grief.


Many of the events in the story really happened and all of them are true! I wrote the story to find out what it would be like to leave home and cross the ocean in a sailing ship and find that everything in Texas was different than I had expected.