Yearning to see the world, Janice and Tom sold their possessions, got married, and set out on a journey they could not afford but had to take. In October, 1954, they boarded a Japanese freighter out of Long Beach, bound for Yokohama, planning to take a year to circle the globe. Their meager baggage included Tom's art supplies and books for the voyage. Their goal was to live inside other cultures, and it changed their lives forever.



Author's note...
The world was a different place in 1954. Except for an emergency, the only way to keep in touch with family and friends was by writing letters which could take a week or more for delivery. Using those letters, as well as articles written and illustrated during the journey, and my photographic memory make our journey come alive.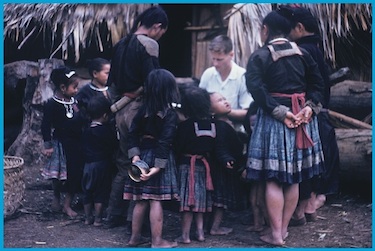 The Meows of northern Thailand did not want their picture
taken with a camera, but were fascinated by Tom's drawings
of them - so fascinated that Janice managed to snap one photo.